ARTIST AT WORK in PIETRASANTA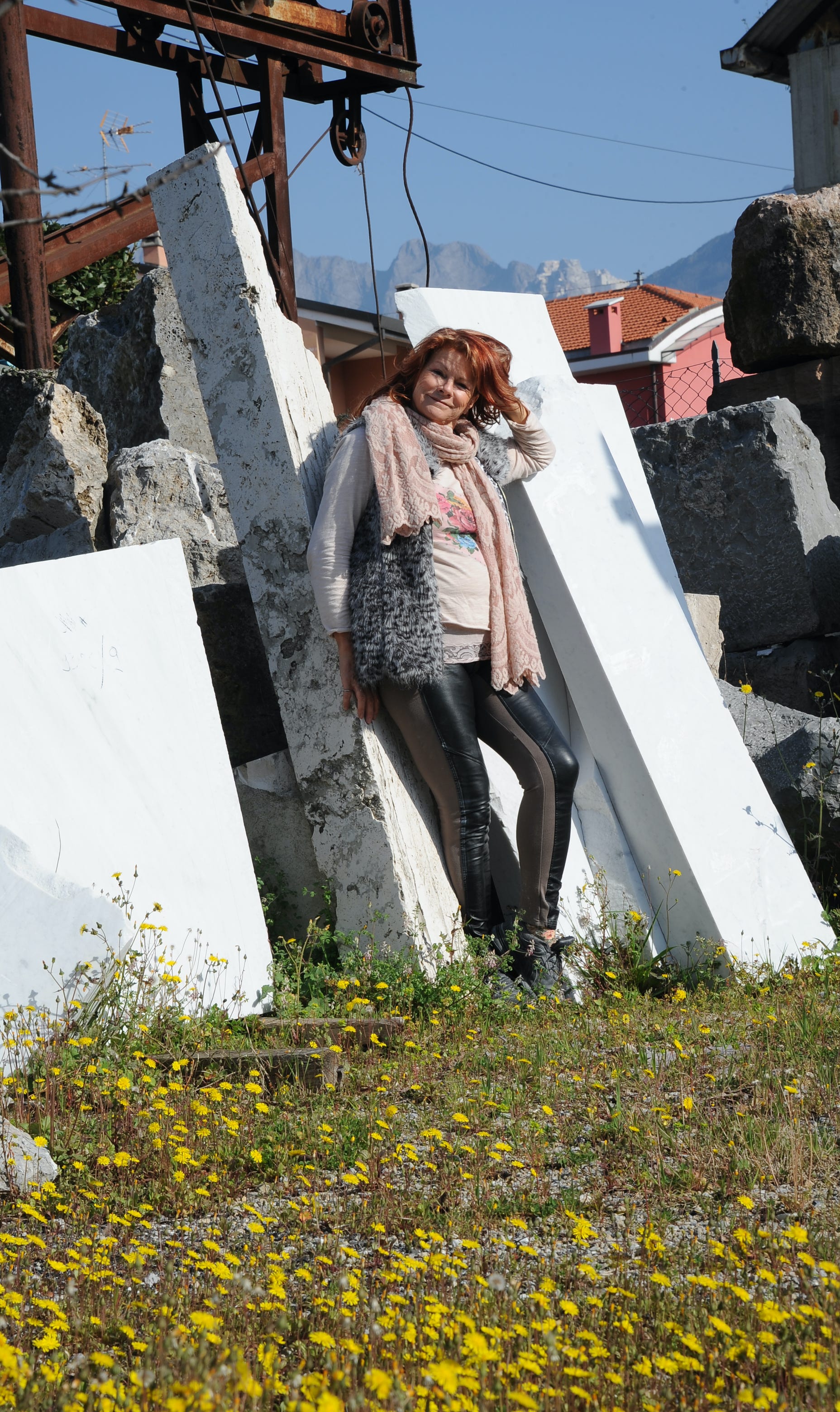 Comment décrire autrement le chemin éclectique de cette artiste née en
Carrare. Son évolution récente passe par une simplification des formes,
• Drawing: Frank Dorsay, Geneva
• Painting: Mat Illo, Gilbert Mazliah, Jean-Marie Borgeaud, Geneva
explore the simplification of lines and shapes to uncover only that which  simplification qui correspond à une progression parallèle de l'artiste
remains essential.  dans sa recherche spirituelle: un retour vers l'essentiel.
The Artist is never guided by a preconceived idea: on the contrary she waits for  Aucune idée préconçue ne guide ses pas: elle se laisse choisir par la
the stone that will choose her and express, through her hands, its enchanting  pierre, et celle-ci lui livre ses secrets enchanteurs. secrets. She is attentive to the incredible vital energy accumulated within the  Marie Muskens se met alors à l'écoute de la formidable force de vie que
marble during its 50 million years geological formation. It is this force that  contient ce marbre, accumulée tout au long des 50 millions  d'années de
guides her in removing what is superfluous in order to capture the purity of the  sa formation géologique. Elle la libère ensuite de l'inutile, pour fixer
instant emotion that will become eternal. dans la matière, sous sa forme la plus pure , l'émotion de l'instant
• Technical drawing: Olivier Juredlieu, Geneva
• Sculpture: Jo Fontaine, Soral / Umberto Antognazzi, Pietrasanta
• Moulding: Sophie Dinet, Megève, France / Ulla Marthe, Geneva, CH

Art is the guiding force behind Marie Muskens' life journey and has led the  L' art est le fil conducteur du parcours multi-facettes de Marie Muskens.
Dutch-born artist to express herself through different creative outlets over the
Soft and translucent white sculptures with smooth curves in alabaster to more  Pierres blanches et tendres comme l'albâtre, aux contours arrondis….
abstract minimalistic shapes in genuine Carrara marble. Marie Muskens' Puis figures plus abstraites, plus dépouillées , en marbre statuaire de
recent artistic evolution echoes with her spiritual progression leading her to
The artist lives between Geneva and Pietrasanta, a picturesque little Italian  L'artiste se partage aujourd'hui entre Genève et Pietrasanta, poétique
village entirely dedicated to Art and ideally located between the sea and the  petit village italien, entièrement dédié à l'art et son expression, situé
famous Carrara quarries. idéalement entre la mer et les célèbres carrières de marbre de Carrare.
In this sculptor's paradise, Marie Muskens finds the tranquil inspiration  Dans ce paradis pour sculpteurs venus du monde entier, elle trouve la necessary for her creations to emerge. quiétude inspiratrice nécessaire à l'avènement  de ses créations.
years and her various travels. Hollande, point de départ d' une vie de voyages…?
In 2004 , at her Manoir de Cologny exhibit in Geneva, Marie Muskens began  Si, en 2004,   lors de son exposition au Manoir de Cologny (Genève ),
unveiling drawings, oil paintings and her « animated bodies » , sensual  elle nous introduisit à son monde de dessins, de peintures et de
bronze sculptures. Since 2007 she is inviting us into an entirely new creative sculptures en bronze aux formes douces et humaines,    universe: stone. dès 2007, elle nous invite à la découverte de son  autre univers:
• Symposium bronze: Albert Gyorgy Ogens